E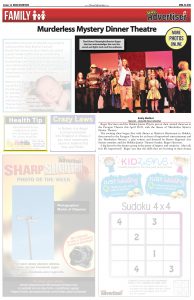 mily Mailhot from the Vegreville News Advertiser attended this year's Showcase. Here's the recap of a great show and a wonderful weekend!
This year, two of our star students aged out and will go on to greener pastures elsewhere (if there are any, that is). Evan and Jordan have both been with us since Year Two (The King's Creampuffs and Peter Pan), and we'll miss their great attitude, easy humor, and the crazy yet somehow calming influence they had over us all.
However, they'll appear in the wrap, pizza party, and rehearsal candids featured in next year's opening video. So we'll see them (and you!) at next year's Showcase!
Click here to read the pages as a pdf file.