The 2019 Junior Players Showcase & Honker House Family Reunion is this April 12th & 13th!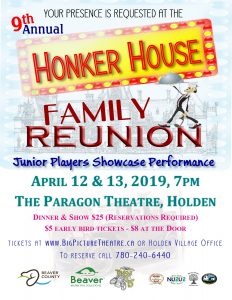 DINNER THEATRE is $25 and always sells out fast so reserve early.
SHOW-ONLY TICKETS are $8 at the door. Reserve online for $5 plus service charge. 
Come and join us for dinner and a complete evening of entertainment with some talented young performers!
FRIDAY:
Dinner catered by The Gallery using locally sourced shorthorn beef from R over Y Ranch! Served at the Holden Community Hall (4919 – 49 Avenue across from the art gallery, 1.5 blocks from theatre). Doors open at 5pm.
Meatballs (choice of creamed or sweet & sour) with rice pilaf, veggies, salad/s, and homemade strawberry shortcake for dessert. Coffee, tea, juice also included. Not licensed. Limited number of gluten free plates available; please confirm early. GF dessert will be ice cream.
SATURDAY:
Dinner will be steak night at the Complex (5123 – 50 Street, half block from the theatre). Doors open at 5pm. Dinner is steak to order with sides, salads & desserts. Licensed. No discount for under-13.
SHOWCASE (BOTH NIGHTS):
Show starts at 7pm.
Dinner & show tickets are $25 and must be reserved in advance.
Show-only tickets are $5 in advance, $3 for under-14 OR $8 at the door, $5 for under-14.
In the first half of Showcase we'll do some improv games to demonstrate some of the skills the students work on throughout the season. After a 15-minute intermission, we'll do a play. This year it's the Honker House Family Reunion!
Hanky and Punky Honker, two spinster sisters well on in years, head up the Honker House family restaurant empire. Family reunions are a wonderful affair, attended by the crazy cat ladies (ahem, the Cat Appreciation Society), their inventive (mad scientist) nephew Buzz, and a host of others.
This year, however, the sisters are going to have to tell everyone they're broke, even with a flamboyant Australian investor and a stern business attorney drawing up their papers. They've checked behind the tree, and there's no money left. Maybe Inspector Shaidy could have helped, but strangely, he went missing on the same night all the cash disappeared.
Have their housekeeper Maid Marian and their driver Ditchoften been taking care of everything? Why is Marian so spry at her age? Why do the cats become kittens again at every reunion? Did Dr. Kwak finally make the most momentous discovery in the history of science?