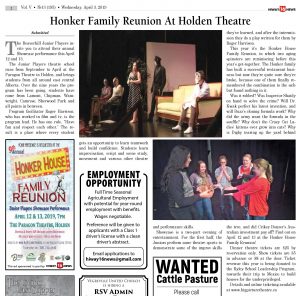 We got a beautiful article and poster insert in the April 3 edition of the Hiway 16 News!
"The Beaverhill Junior Players invite you to attend their annual Showcase performance this April 12th & 13th.
The Junior Players theatre school runs from September to April at the Paragon Theatre in Holden, and brings students from all around east central Alberta. Over the nine years the program has been going, students have come from Lamont, Chipman, Wainwright, Camrose, Sherwood Park and all points in between.
Program facilitator Roger Harrison, who has worked in film and tv, is the program lead. He has one rule, "Have fun and respect each other." The result is a place where every student gets an opportunity to learn teamwork and build confidence. Students learn improvisation, script and scene study, movement and various other theatre and performance skills.
Showcase is a two-part evening of entertainment. For the first half, the Juniors perform some theatre sports to demonstrate some of the improv skills they've learned, and after the intermission they do a play written for them by Roger Harrison.
This year it's the Honker House Family Reunion, in which two aging spinsters are reminiscing before this year's get-together. The Honker family has built a successful restaurant business but now they're quite sure they're broke, because one of them finally remembered the combination to the safe but found nothing in it.
Was it robbed? Was Inspector Shaidy on hand to solve the crime? Will Dr. Kwak perfect his latest invention, and will Buzz's cloning formula work? Why did the army want the formula in the souffle? Why don't the Crazy Cat Ladies' kittens ever grow into cats? Why is Digby tearing up the yard behind the tree, and did Crikey Bonzer's Australian investment pay off?
Find out on April 12th and 13th at the Honker House Family Reunion!
Dinner theatre tickets are $25 by reservation only. Show tickets are $5 in advance or $8 at the door. Ticket revenue this year is being donated to the Ryley School Leadership Program, towards their trip to Mexico to build houses for the underprivileged."